Hi everyone,
we are thrilled to announce a project we have been thinking about for a very long time and we are even more happy to do this with dear friends.
We've been very blessed and lucky to be doing as a profession what we love the most. We love life, people and we love to give. So we teamed up for something very dear to us:
We want to give back to people who give their lives to others. People who work in order to help others. People who have put their lives in service to others.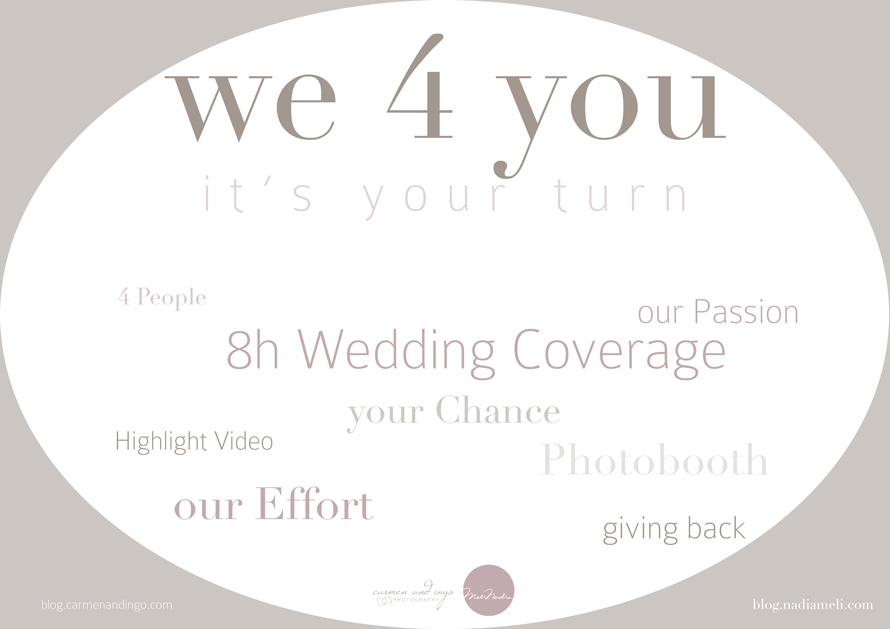 Together with our very good friend and fellow wedding photographer Nadia Meli and her husband Eddy we want to give our time and talents in order to give back. Next year (2013) we will give a special wedding offer to one couple in this world.
Together, the 4 of us will cover your wedding day for 8 hours, we'll give you photos, a highlight film and all our effort and passion. Combined you get not one, not two but a team of 4 to capture your wedding in our own special way.
Do you know someone who puts their life into service for others? Someone who gives, someone who is passionate about loving and helping people?
If you do we are looking forward hearing from you NOW! (If not, we appreciate if you help us spread the word!)
This is how it works:
Nominate a couple that you personally know and who are getting married in 2013

Tell us their wedding date
Tell us what they are doing for others. It can be something big or small, seen or unseen. Payed or unpayed.

What difference are they making in this world? How are they helping and serving?
Tell us their story and what exactly it is that they are doing. How they are giving to others.
It does not matter whether the bride or the groom or both are involved, but at least one part of course.
Use this form only -> HERE
Hit the "send" button!
Your application can be in German or English language. Since we will have costs to cover we will charge a nominal sum of only 1500,- Euro (incl. 19% VAT). This will cover our travel expenses (this may variy a little for overseas flights) and hotels and if something is left over we will donate the rest to a charity organization of our choice. The regular price for our package would be over 9000,- Euro excluding travel expenses.
The choice we make is totally subjective and is depending on our availability for 2013 and sure about the stories behind bride and groom. We will close the application for this project when we either found a matching couple or our availabilities for the 4 of us are spent.
Please be aware that we can only take applications into account coming from the official form. So please follow this link to place your application! We are looking forward hearing from you!
Love
Nadia, Eddy, Carmen and Ingo