We again are super happy to be announcing a great opportunity for fabulous people to be part of our Candi Wedding Workshop. This time, it will be in Italy – Tuscany. Are you interested? Read on!
Our recently published wedding workshop (details HERE) is sold out already and now we are looking for you to be part of it. Like for all of our workshops in the past we are looking for two real couples who are willing to have fun with a bunch of creative photographers in a wonderful surrounding and spend the shooting day with all of us in front of our lenses.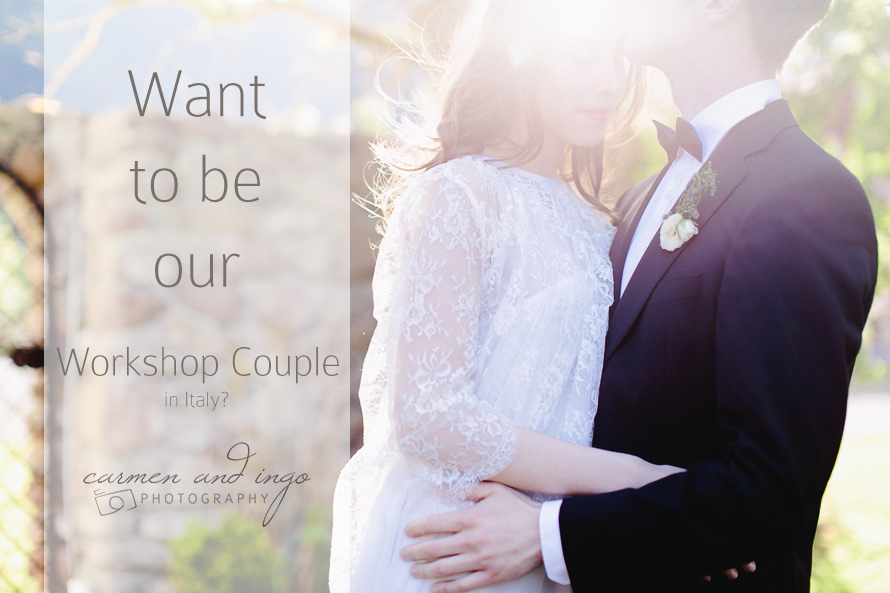 What's your task?
You need to be available October 23rd 2013 from about 12:00 to 19:30 in Italy (google maps link). We need one wedding couple and one engagement couple. You should be open minded, fun people who are not afraid of standing, sitting, kissing and laughing in front of a camera. Btw, your status of your relation ship does not count at all. Married or not, your all welcome!
To give you an example how our last couples were performing click this LINK or THIS or THAT ONE.
So you want to be part of it? Come and sign up now. That's nothing for you? Why don't you hit the share button below and help us spread the word? We would totally appreciate that! Thank you!
Last time we have had 70 couples for two workshops and that means, we have a lot of work to walk through all applications.
Please be aware that we need time to do that so you might not hear from us too soon. We will read every application and answer them of course. But we kindly ask you to be patient with us. Thank you in advanced.
We are very looking forward hearing from you and your spouse!

Love from Munich
Carmen and Ingo
PS: Application form is German only, please feel free to apply in English if you want anyway.