We can hardly tell you how excited we are about this one. We got featured on Style Me Pretty last Friday! For those of you who have never been on Stylemepretty.com should just go there after you read this article. SMP is one of the biggest and most viewed wedding blogs in the world wide web and it has featured a line up of photographers who are know as the best of the best of this industry! Worldwide!
Recently they named this numbers:

We have gotten a ton of inspiration through this blog and the featured photographers. We have seen incredible work from people all over the planet. It was a dream and big goal for us to one day see our both names on the blog too. You should always aim high, right? 🙂
However, we thought it could happen this year and we tried it first with the wedding of Steffi and Alex which was in Croatia early September. After we got the confirmation from SMP we almost could not hold back the news. But we quickly learned, that getting 400 submissions per week, it might take quite a while to finally see it really happen. To be honest, we almost did not believe it anymore to happen, after it took three month for scheduling. A drawback is, that since SMP wants fresh work, we could not submit this wonderful wedding somewhere else. So we waited calm and curious.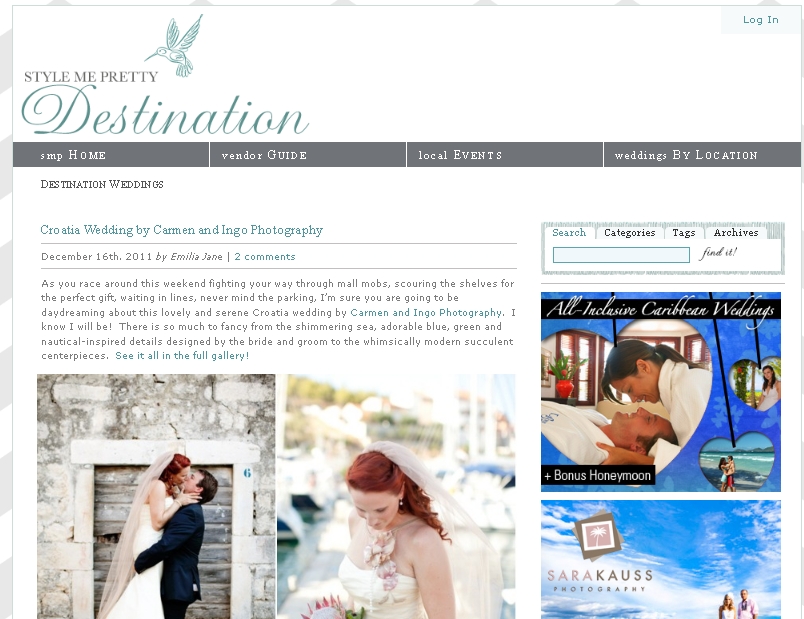 Today, we are beyond stoked about this and it is a perfect way to farewell 2011. 2012 will bring new ideas, new projects and a load of energy to serve our old and new clients. We are trying to blog a little review of 2011 as well as an outlook for 2012 in the next days.
Stay tuned and have a great start into the week.
Love
C and I