Firstly, since this Cyber Special is not relevant for our English speaking followers, this will be in German only. Sorry for that, but if you are interested into Workshops in English, sign up for our Newsletter List (Workshop English) HERE we might have news for you soon.
Hallo ihr Lieben!
Ihr habt es sicher schon über viele Newsletter (besonders Amazon, die das bereits eine Woche lang machen) und diversen Postings erfahren: Black Friday und Cyber Monday stehen am kommenden Wochenende an. Und wie auch 2013 wollen wir das Discount-Wochenende, an dem sogar Apple teil nimmt, nutzen um zusätzlich zum inhaltlichen Mehrwert den wir anbieten, auch eine finanzielle Unterstützung dazuzugeben.
In Zahlen heißt das BIS ZU 190,- Euro SPAREN in der Zeit von heute Mitternacht (28.11.) bis Montag 1.12.2014, ebenfalls Mitternacht.
Wir haben unseren Video Workshop für Fotografen auf ein SUPER Spezialpreis von 399,- (statt 499,-) reduziert.
Darüberhinaus gibt es für jene, die an unseren Presets interessiert sind ein KOMBI PAKET in dem alle drei Sets im Gesamtwert von knapp 190 Euro für NUR 100,- Euro  zum Workshop oben drauf kommen. HIer ist das als einmaliges Kombi-Paket erhältlich.
Natürlich beinhaltet der Workshopkauf ebenfalls die Aufnahme in die Candi Community sowie die Teilnahme an den Gatherings. Die Candi Community besteht aus allen Teilnehmern eines Live-Workshops und Käufern des Videoworkshops.
Die Gruppe dient dem professionellen Austausch für Fragen aller Art. Natürlich auch über den Workshop hinaus. Ob fotografisch, unternehmerisch oder steuerlich es gibt keine Probleme die nicht gelöst werden können. Wir versprechen komplette Trollfreiheit und eine friedliche, freundliche und sehr hilfsbereite Gemeinschaft.
Zusätzlich zu einem reduzierten Preis bekommt jeder Käufer einer unserer Produkte, bis 31.3.2015 – 50% bei unserem neuen Partner für Großformatabzüge ZOOMWORK.
GRATIS EINBLICK: Wer sich einen Überblick vom Workshop verschaffen will sollte sich diese 22 Minuten aus dem Workshop anschauen.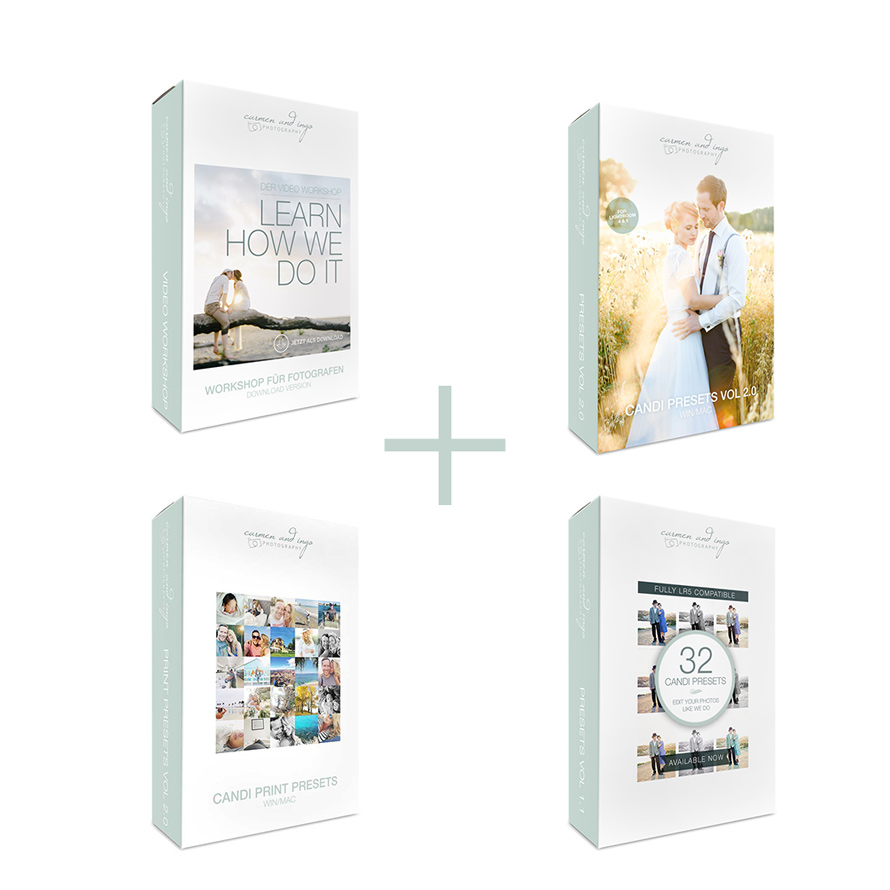 Liebe Grüße und einen guten Start ins Cyberwochenende wünschen wir euch allen!
Carmen und Ingo
PS: Für alle die Zoomwork einfach mal so ausprobieren wollen, gibt es bis zum 31.3.2015 mit candi25 einen 25% Rabatt auf euren Einkauf. Weiter Details und wie das Einzulösen ist findet ihr HIER.