It's this time of the year again, where everyone is heading to the mall and trying find gifts and presents for their beloved ones. The stores are filled up to the roof with goods and people. Most money is probably spend online anyway.
With all that rush, we would like to slow you down and point you to this project we are supporting.
Two years ago (2012) we spent over thousands of Euros in Christmas gifts and presents for our clients. Most of that money went to the postal service to ship the stuff out.
Thinking back, it's been a sweet idea but a waste of money. This year, we would like to donate this money to something more important than gifts and here is where you come into play as well.
Together with a bunch of amazing people from the wedding industry, led by the wonderful Irina Thiesen, we started an Indiego campaign to support ebola orphans in Sierra Leone and Liberia.
Besides the donation, there are still some goodies (perks) left for your donation. But don't feel oblicgated to spend big money. Every little euro counts to reach our goal and we all (and the orphans) are super thankful for you supporting this campaign!
Here is a copy/paste from facts behind this project for ebola orphans. (CLICK IMAGE TO GET TO THE CAMPAIGN)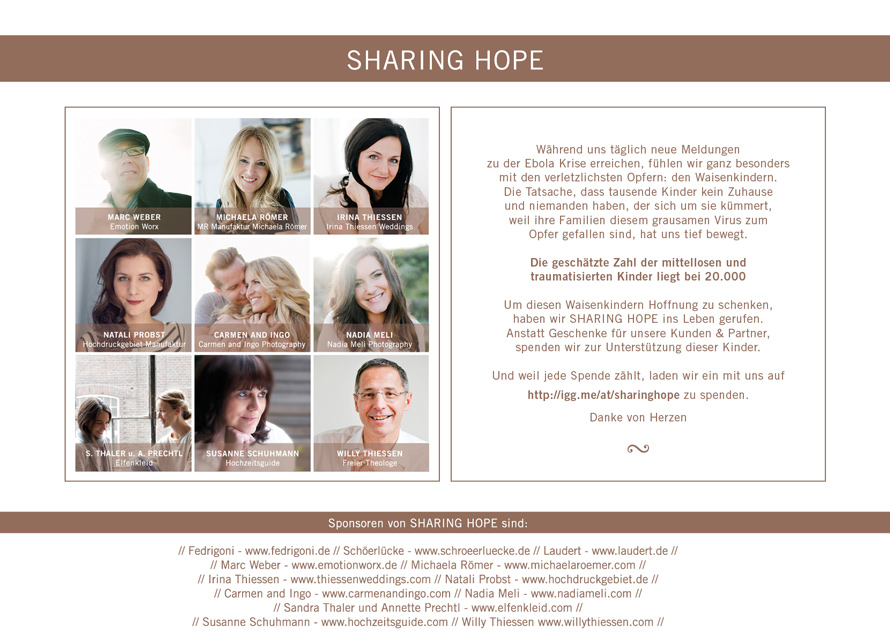 THE FACTS
As news keeps pouring in daily about the ebola crisis our heart especially goes out to the weakest and most vulnerable of the ebola victims: the orphans.
When we first learned about the fact that thousands of children have no place to go, no one to care for them after their families and sometimes even the extended families have been wiped out by this cruel virus, our hearts were bleeding. Even if there is any family left, they and the neighbors often are afraid and thus refuse to take these kids in out of fear of being infected by the virus. The number of children who have been left destitute and traumatized is being estimated at 20,000.
THE GOAL
It costs €65 for Street Child to give a child a set of clothes, mattress and food for a month – possessions are usually burnt or destroyed to disinfect them: most ebola orphans are left with nothing.
It costs €130 to provide family reintegration, counseling, some ongoing nutrition support – and then help re-entering school.
It costs €130, where necessary, to provide a business a grant for the family who have taken the child in to help them sustainably fund the increased household and school costs. This process lasts 12-18 months.
It costs up to €325 in total per child.
Our goal is to give at least 15 orphans this desperately needed care.
 THE HOPE
Help us ensure a better way of life for ebola-affected children just like Bintu and Douda by joining in this campaign. With your donation you will make a lasting difference in one of the orphans lives. There will be hope where there was sorrow and death. We can not bring their loved ones back, but we can help make their future a bit brighter.
Please talk about this campaign on social media and with your friends and colleagues. You can use the easy indiegogo tools for that as well. We believe that together we can touch the lives of these orphans and SHARE HOPE.
We have put in some great perks that you might want to check out, before you decide on the exact amount of your donation.
THE TEAM
Our fundraising team consists of 9 professionals from within the wedding industry in Germany.
This year instead of sending out Christmas gifts to our customers & partners we will donate those funds in order to SHARE HOPE with the ebola orphans. Our donation will go to Street Child www.street-child.co.uk who is providing care for these orphans in Sierra Leone and Liberia.
THANK YOU ALL SO MUCH for the support and have a great Christmas time
Love
Carmen and Ingo