How are things going? We hope you all have a great time so far in 2015 and you are as much looking forward to sunny and warm days as we are.
Today we would like to introduce a new project we have been working on since quite a while and the easy questions for you is:
Would you like to (Google) HANGOUT with us? Live?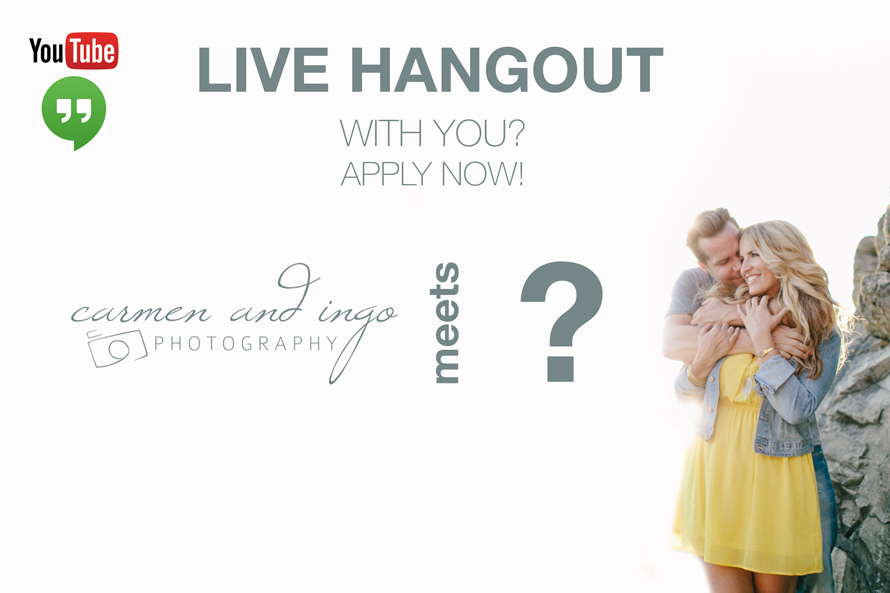 Recently we have been doing the first live hangout hosted by yours truly and the second in total. In case you have missed them, here is the one with great guys from 50nifty last year and this one is with the one and only Calvin Hollywood a couple of days ago.
The idea behind our new monthly, one hour GOOGLE LIVE HANGOUT is, that we are doing it with YOU!
And it can be anything from only small talk, extended Q&A, one2one mentoring session, business review and analytics as well as portfolio review or a mix of the above.
It also could be a session where you bring interesting stuff to the table and it is not only us both giving advice but also you.
The Hangout will be ONLY available if watched LIVE* via YouTube (Event will be announced way in advanced)
How to be part of this? What to do?
You can easily apply for being a guest on the live hangout by either commenting here on the blog (or Facebook) or emailing to hangout ((at)) carmenandingo.com.
Most important is that you not just simply raise your hand but also let us know what the topic for this 1h Google Live Hangout would be and why we should invite you.
Tell us what motivates you to be part of this project.
The hangout can be either in German or English depends if you are German or English speaking 🙂

We are more than happy to hear from you all and once we have found the right person, you will hear again from us with a date and time for the session.
Also, we are not only looking for one person but sure a team of people who work together. Further more, if there are multiple interesting applications, we are filling up more than only one hangout over the next month. So keep them coming!
Love and we are very excited to hear from YOU!
Carmen and Ingo
*Depending on the topic we might NOT host the Video on Youtube for rewatch
PS: oh and if you apply, please give us some time to respond. you will for sure hear from us, no matter if you are invited or just say thank you for getting in touch.