UPDATE!! BIG THANKS to over 30 couples applying as models for our workshop. We are very honored and excited to meet 3 of them soon!
Be sure you follow us on facebook to be up2date if there is a new chance and new occation.
++++++++++++++++++++++++++++++++++++++++++++++++++++++
Hello everyone!
We hope your doing all well. We again are super happy to be announcing a great opportunity for fabulous people to be part of our Candi Wedding Workshop. It will be in Verona – Italy again and if you are interested? Read on!
A couple of month ago we published a wedding workshop which (to our very surprise) was sold out within 24h as well as the additional date a week later. As always we want really loving people to be in front of the cameras in order to have an authentic shoot for our attendees. So now we are looking for you to be part of one of our workshops.
If you are two real loving and fun people who are willing to join a bunch of creative photographers in a wonderful surrounding and spend the shooting day with all of us in front of our lenses, you should apply right away.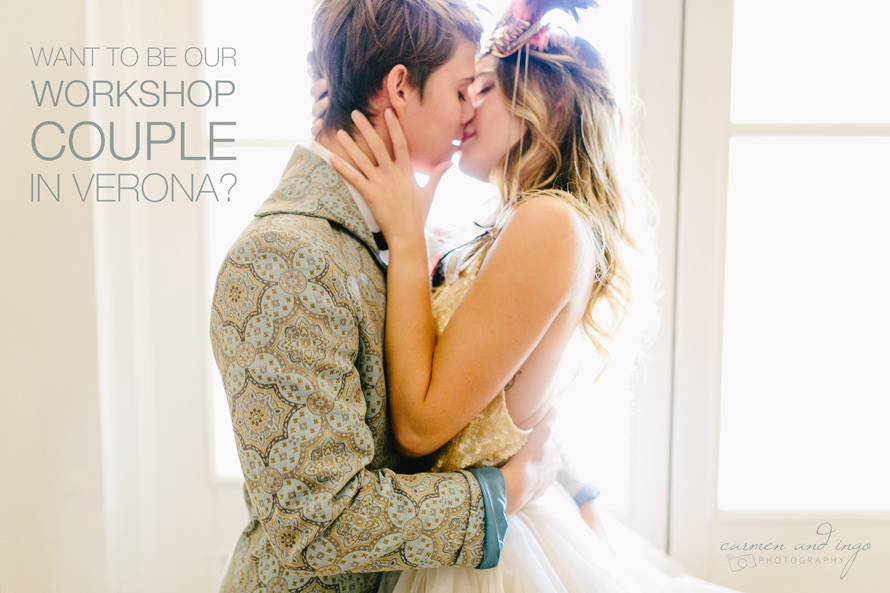 What's your task?
You need to be available October 7th or 14th 2015 from about 10:00 to 19:00 in Verona (google maps link). We are still looking for three couples in total for either wedding (2) or engagement style (1). So chances are higher if your love a wedding dress 😉
You should be open minded, fun people who are not afraid of standing, sitting, kissing and laughing in front of a camera. Btw, your status of your relation ship does not count at all. Married or not, your all welcome! Also, if you are a same sex couple we are more than happy to get your application too.
To give you an example, how our last couples were performing click this THIS WS FROM 2013 or THAT ONE.
So you want to be part of it? Come and apply now. We love to hear from you!
That's nothing for you? Why don't you hit the share button below and help us spread the word? We would totally appreciate that! Thank you!
We are very honored to have had over 100 couples apply for the past workshops so please give us some time to get back to you.
Please be aware that we need time to do that so you might not hear from us too soon. We will read every application and answer them of course. But we kindly ask you to be patient with us. Thank you in advanced.
We are very looking forward hearing from you and your spouse!
LOVE
Carmen and Ingo
PS: Application form is German only, please feel free to apply in English if you want anyway.